Children's Summer Reading 2022


Summer Reading 2022
To celebrate this year's theme, we're focusing on outdoor skills and encouraging adventure and exploration! Join us for lots of outdoor activities with local organizations and craft programs to get your kids curious about the outdoors. 
Reading Logs
The intention of this 6 week Summer Reading program is to help your child develop lifelong healthy reading habits.
Each week your child reads 5 days or more, they will be entered into our weekly raffle to win an outdoor exploration bag that includes: binoculars, compass, flashlight, bug net, bucket hat, notebook, and pencil!

Register in the Children's Room and pick up a paper Reading Log
OR
Register online with READsquared to track your progress digitally at
http://plnl.readsquared.com

---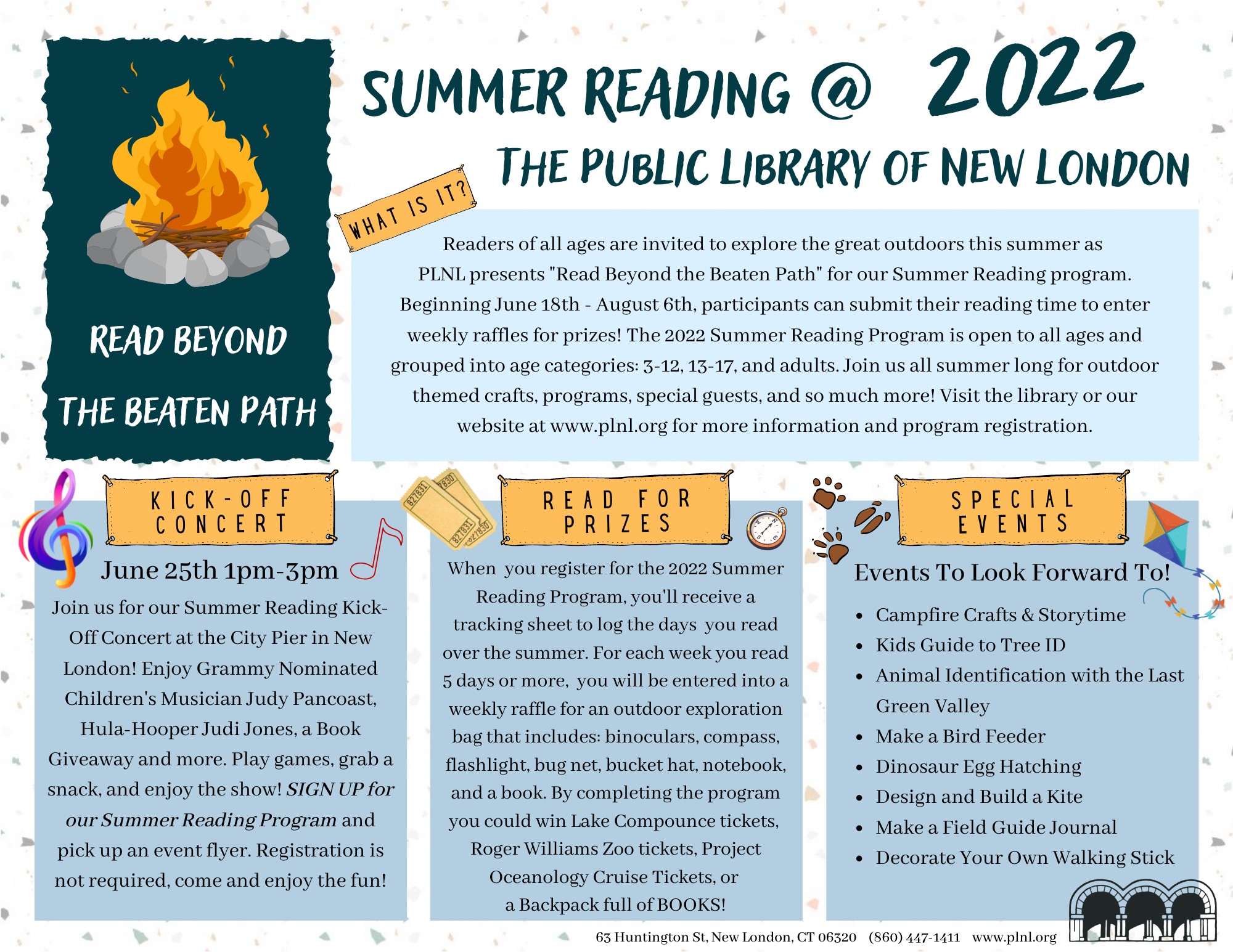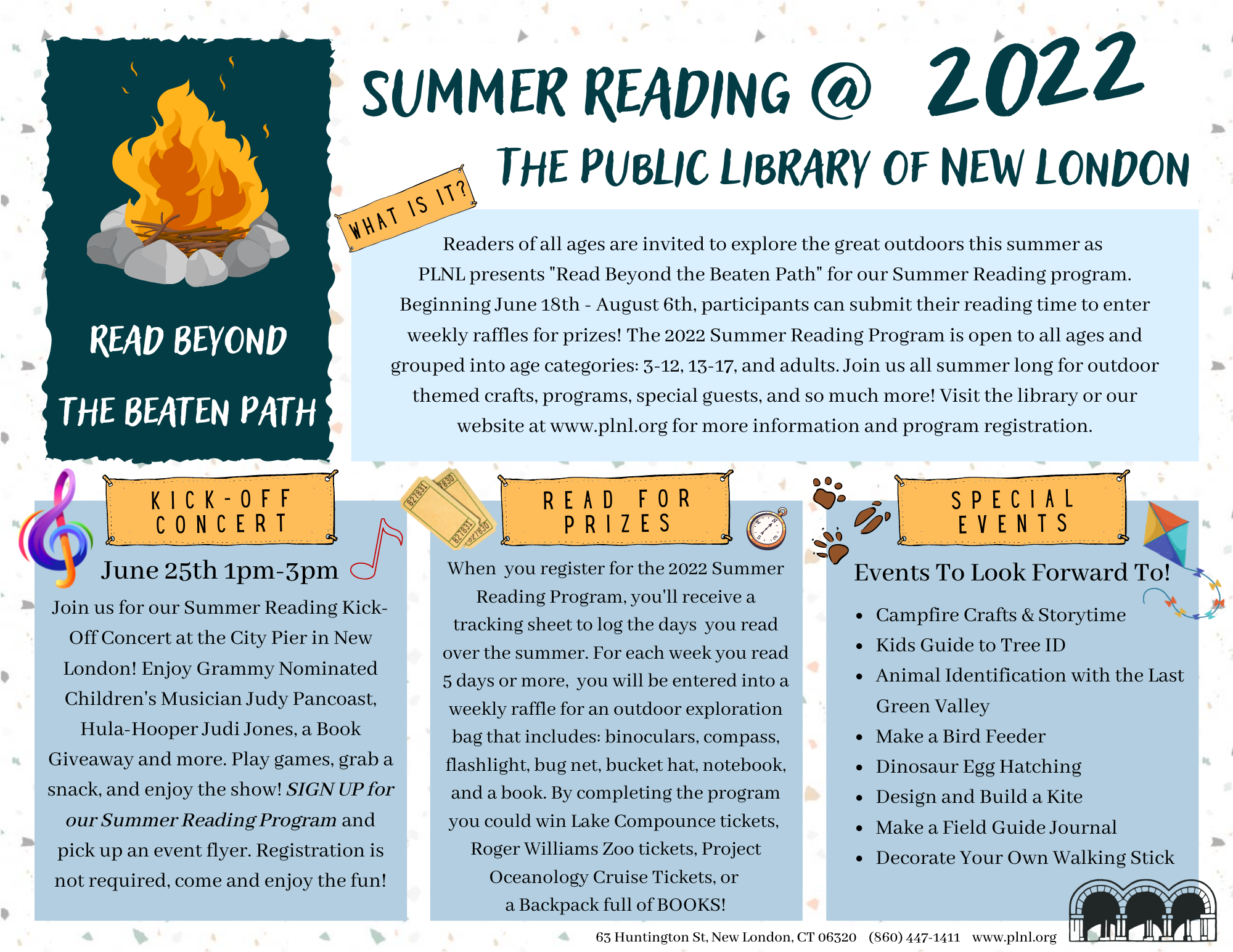 Special Programs

Summer Reading Kickoff Concert!
June 25th 1-3pm at City Pier in New London
Join us for our Summer Reading Kick-Off Concert at the City Pier in New London! Mayor Passero will be kicking off the event before performances by Grammy Nominated Children's Musician Judy Pancoast and Hula-Hooper Judi Jones. Enjoy a free Book Giveaway and more! Get signed up for Summer Reading, play games, and enjoy the show! Library staff will be available with library card applications and Summer Reading Program registration.
Registration is not required! Concert will be held at the City Pier in New London behind the train station. 1 Waterfront Park, New London, CT 06320
Campfire Crafts & Storytime with Denison Nature Center
July 8th 6pm at Denison Nature Center
Gather round to craft, hear folktales of local wildlife and meet a live animal. Children use natural items as stamps and create seed mosaics. We'll round out class with an opportunity to roast marshmallows over a mini campfire! Program is limited to 20 participants.
Register HERE

Mad Science: Energy in Action
July 13th 11am – 4pm at the Public Library of New London
A mobile learning experience brought to you by Mad Science
THE STORY:
Planet Earth has been invaded by an evil villain who is on a mission to steal all of the world's power. The Energy Vampire is executing a very selfish plan, causing power sources throughout the Earth to be consumed, leaving very little energy for so many vital human needs. The Energy Vampire's unquenchable thirst for energy is leaving Planet Earth in a dire situation.Enter our hero, the Light Saver! Swooping in to save the day after detecting alarming energy signals, the Light Saver is on a mission to help humankind conserve energy through education, advocacy and action. The first target for this mission is the home, where over 10,000 kWh of electricity is consumed every year! Come along for the journey as our villain and hero battle it out in an epic comic-style adventure, leaving a trail of positive change in their wake.
Step inside the interactive exhibit for an hour of learning and exploration:
The Energy Grid– Like the game of Plinko! Guests will place a token at the top of the wall and watch the path of electrical power has it travels to homes and businesses.
Plasma Tube– Learn how your body conducts electricity.
Thermal Tunnel– Observe how insulation prevents heat loss and view the energy coming from your own body!
Generation Station– Use your power to discover which light bulb is most efficient. 
Wind Power– Discover how wind turbines produce energy.
Light Wall– Like a giant Lite Brite! Make your pledge to become more energy-efficient.
…And More!!
Kids Guide to Tree ID with Denison Nature Center
July 26th 10:30am at Denison Nature Center
An essential element of camping is being deep in the forest, surrounded by trees. How many of those trees do you know? What animals depend on those trees for survival? Practice your tree identification skills, meet several DPNC animals who rely on trees in the wild and do a leaf rubbing craft.
Register HERE

Animal Identification with The Last Green Valley
July 28th 1pm at the Public Library of New London
Join Chief Ranger Bill Reid from The Last Green Valley to explore and learn about wild animals from the region. Kids will have the opportunity to closely examine reproduction skulls of several mammals and help identify their individual characteristics and habits.
Register HERE

Author Visit with Elaine M. Alexander
July 30th 10:30am at the Public Library of New London
Join local author and librarian Elaine M. Alexander to celebrate her new book Anglerfish: The Seadevil of the Deep! Join us for a storytime and book raffle for a signed copy of her new book! Books will also be available for purchase through Bank Street Books. 
---
All Day Craft Programs 
Hosted by the Public Library of New London and available all day at our Craft Station in the Children's Room
Kite Making & Decorating
Tuesday, June 28th
Build and design your own kite! With our easy to make kit you can make your very own kite that is sure to take off and fly high. Use our paints and markers to decorate your kite any way you'd like.

Bird Feeders
Wednesday, July 6th
Make your own bird feeder with jumbo popsicle sticks! This craft is easy to make and great for all ages. Use your bird feeder all summer to watch and observe the different birds that come your way. 

Dinosaur Egg Hatching
July 12th – July 14th
Stop by this week to pick up your very own dinosaur egg. These prehistoric eggs will be ready to crack open revealing your special dinosaur!

Field Guide Journal Making
Monday, July 18th
Get ready to explore the great outdoors by making your own Field Guide Journal. Pick from a variety of pages to assemble a field guide that suits your interests. Bird watching, bug identification, leaves and trees, animal sighting, weather, rocks and minerals, hiking trails, and more! Pick your pages and use our book binder to create your own journal. 

Walking Sticks
Friday, July 22nd
Decorate your own walking stick to take on hikes and outdoor adventures. Pick one of our sticks that suits you then paint and wrap your stick with fun colors and designs.

Kaleidoscopes
Thursday, August 4th
To wrap up our Summer Reading program we're making nature inspired Kaleidoscopes! Fill in your kaleidoscope spinner with hand drawn designs inspired by your adventures outdoors over the summer.