Book-a-Librarian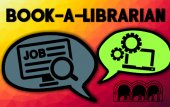 Need tech or resume help, but are unable to visit us? Take advantage of our Book-a-Librarian program and consult with a librarian from home! Make your appointment here.
If you need help building a resume or learning how to use a computer, submit a request for a one-on-one session with one of our information professionals by filling out the form below.  You may also email us at tkramer@plnl.org or call (860) 447-1411 ext 5.  Consultations are scheduled during select times on Tuesday through Thursday and typically last 30 minutes.
A staff member will call to confirm your appointment within 1 business day. 
Please note:  We will do our best to honor your Book-a-Librarian request.  However, due to limited staff expertise, our staff may not be able to answer all of your questions, and your session may end in a referral. We are only able to assist with resume building and basic technology needs at this time. We appreciate your understanding.
Some things we are unable to help with:
We cannot type your documents or complete online forms for you.

We do not offer computer software/hardware troubleshooting.