Free Vaccination Clinic: 2-6pm on January 26th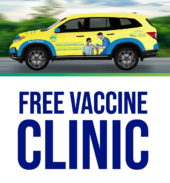 A vaccination clinic will be at the Public Library of New London providing FREE COVID-19 vaccinations. Read more here.
Walk-ins welcome, no appointment required. Booster shots will be available to those who qualify. Ages 12+.
Please bring a health insurance card and photo ID if you have them, but it is not necessary to have health insurance or ID to receive the vaccine. No one will be turned away for lack of insurance or ID.
Sponsored by Griffin Health and the CT Department of Public Health.
The following forms are required to receive the vaccine. They can be downloaded below, and will also be available during the clinic:
Pre-Vaccination Screening Form (English)
Pre-Vaccination Screening Form (Spanish)
Griffin Pediatric Intake Form (English)
Griffin Pediatric Intake Form (Spanish)