Martin Luther King, Jr. Book Drive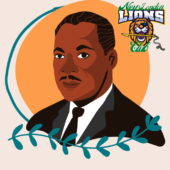 Donate children's books written by Black or Latino authors to The Public Library of New London. Read more here.
The Public Library of New London is proud to partner with the New London Lions Club to collect new or gently used books written by African American or Latino authors for elementary and middle school students. This enrichment program undergirds the CT PA 19-12 act, which aims to boost inclusion of African American and Latino studies in the public school curriculum.  Please review the following lists for some examples of the types of books and authors we are looking for:
Book list of African American authors
Book list of LatinX authors/titles
Books can be dropped off until January 15th at the library's circulation desk, the Drop-In Learning Center, or at Jake's Diner. Note that books not meeting the above criteria may not be added to the collection, and may be used for other purposes. For more information, please contact tkramer@PLNL.org or call (860) 447-1411 ext 5.