PLNL Teen Summer Reading Program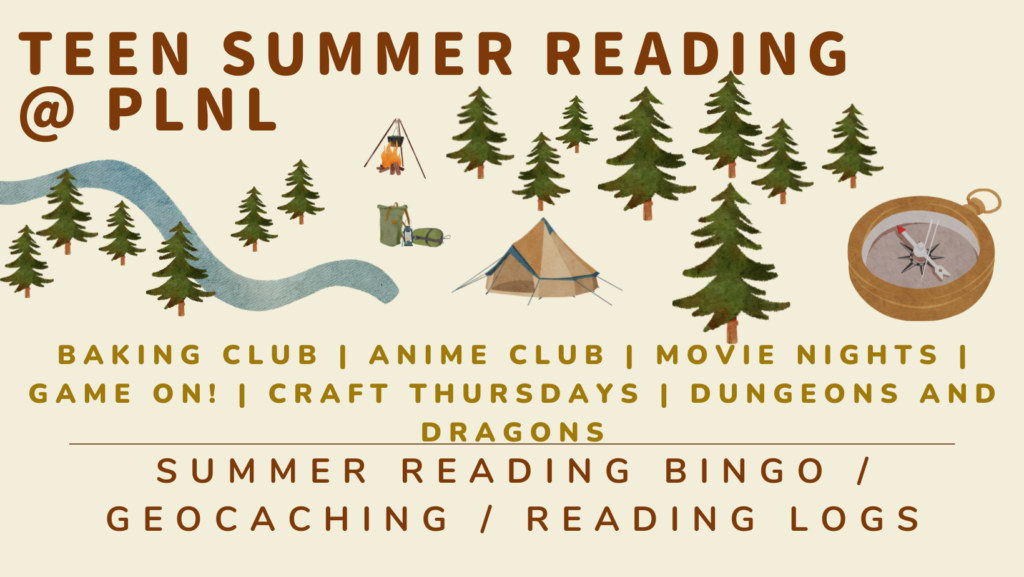 It's like everyone tells a story about themselves inside their own head. Always. All the time. That story makes you what you are. We build ourselves out of that story.

Patrick Rothfuss, The Name of the Wind
This summer, join us at the library as we get off the beaten path and explore new and fun ideas! We'll have a ton of new activities, from movie nights, to a baking club to Dungeons and Dragons sessions. In addition to our in-house programming, don't forget to explore New London and the surrounding towns with our ongoing summer reading program for a chance to win prizes. Fun opportunities to learn and grow are just waiting for you, if you just read off the beaten path.
Sign up here, at plnl.readsquared.com , or at the desk in the Teen Activity Room!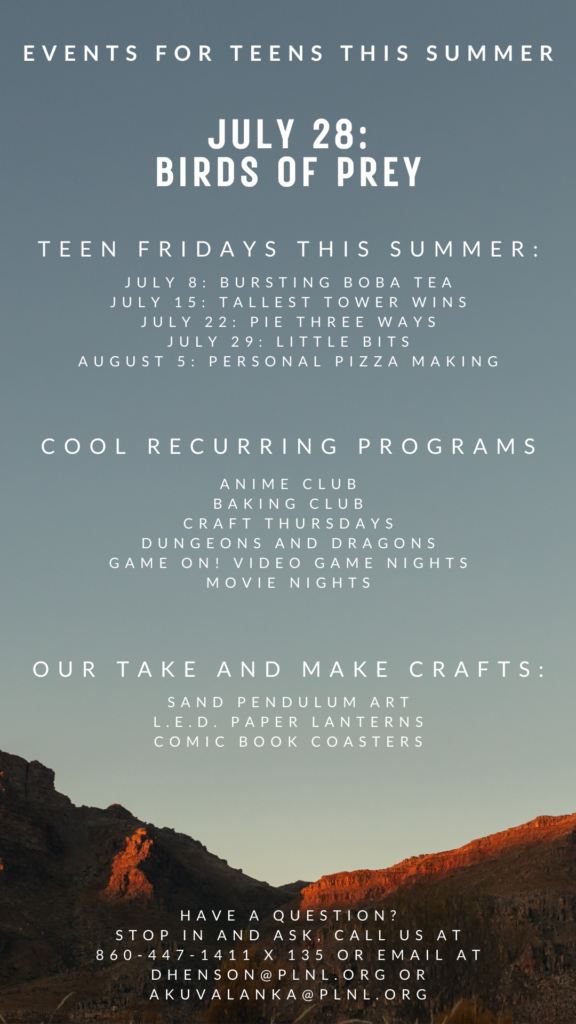 Horizon Wings: Birds of Prey – Tuesday, June 28
Horizon Wings was formed in 2001 by Mary-Beth Kaeser as a 501c3 non-profit Wildlife Rehabilitation Center specializing in Birds of Prey located in Ashford, CT.   Horizon Wings has several raptors that cannot be released back into the wild due to their injuries. Join us in the Teen Activity Room at 5PM where you will meet some of the birds in their care and learn more about them. 
Recurring Programs:
Anime Club (First Monday of the month: June 6, August 1) – We'll be watching a variety of anime, from classics to new releases in the Teen Activity Room starting at 4PM!
Baking Club (every other Thursday, alternate with Craft Thursdays: June 9, June 23, July 14, July 28, August 11, August 25) – Join us as we bake a variety of goodies using the kitchenette in the Teen Activity Room at 4PM!
Craft Thursdays (every other Thursday, alternate with Baking Club: June 2, June 16, July 7, July 21, August 4, August 18) – Come by the Teen Activity Room every Thursday as we make a variety of crafts with some lo-fi beats!
Dungeons and Dragons (Every Tuesday starting July 5th) – We'll be running a D&D campaign every Tuesday this summer! Join us on July 5 for our Session 0 as we go over expectations and prepare to explore the Hoard of the Dragon Queen!
Game On! (every Wednesday) – Are you the best at Super Smash Bros? Your Quiplash answers can't be beat? Come by the Teen Activity Room every Wednesday at 4PM for our free play gaming event! Not only will we have video games on our Nintendo Switch, but also a variety of easy-to-learn board games like Munchkin!
Movie Night (every other Tuesday: May 24, June 13, June 27, July 11, July 25, August 15, August 29) – Looking to go to the movies, but want something more laid back? Join us in the Teen Activity Room as we watch a variety of recent hits on our projector and munch on popcorn!
Friday Teen Adventures – Fridays at 4PM!
Friday, July 8: Making Boba – Stop by and make yourself your own custom boba tea, with either tapioca or fruit poppers!
Friday, July 15: Tallest Tower Wins – Compete with other teens to make the tallest freestanding tower for a prize!
Friday, July 22: Pie Three Ways – Come bake with us as we make apple, pumpkin, and pecan pie from scratch!
Friday, July 29: Little Bits S.T.E.A.M. Kit- Join us in the Teen Activity Room as we host a workshop focusing on making your own robots! Make your own little machine, from something super simple to a robot that can draw!
Friday, August 5: Make-Your-Own Personal Pizza – You won't believe what popular Italian food we'll be making in our kitchenette this week!