Memory Kits for Adults with Dementia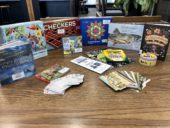 In recognition of National Family Caregivers Month, we're happy to announce our Memory Kits are now available! Click here for more info!
These kits consist of a selection of activities and books designed for adults living with dementia and their caregivers. Kits can be checked out from the library by stopping by our information desk. These can be placed on hold, but must be picked up from the Public Library of New London.
Each kit includes:
32 historic New London postcards
300 piece puzzle
Spot It! matching game
Deck of playing cards
36 colored pencils & adult coloring book
Checkers game
Gemem pattern blocks
Greatest hits of the 50s CD
Map of New London, Waterford, Groton, and Mystic, CT
National Audubon Society Pocket Guide: Songbirds and Familiar Backyard Birds by Wayne R. Petersen
Floriography: An Illustrated Guide to the Victorian Language of Flowers by Jessica Roux
Freshwater Fish of the Northeast by David A. Patterson
National Geographic: Simply Beautiful Photographs by Annie Griffiths
The Caregiver's Guide to Dementia by Gail Weatherill
For more information, call our information desk at (860) 447-1411 ext 5 or email tkramer@PLNL.org.