PLNL Seed Library 2021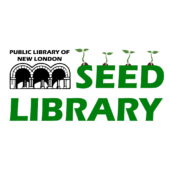 Need some help starting your garden? Fill out our order form to request seeds from our seed library!
The Public Library of New London is committed to supporting the local environment and community by sharing seeds through its Seed Library program. We're happy to announce that the program has returned this year, thanks to a generous donation from High Mowing Organic Seeds!
Please use the form below to submit your order of up to four seed varieties.  You will receive approximately two pinches of each type of seed. We reserve the right to substitute with another type of seed if we've run out of a variety you requested.  Note the library is not accepting seed donations at this time.
Once you submit your form, please call the Public Library of New London's information desk at (860) 447-1411 ext. 5 to schedule a time to pick up your seeds.  Seeds can be picked up from the library via curbside delivery. Note that we are unable to ship to your address.
Library hours:
Monday: 10:00-4:00
Tuesday:  12:00-6:00
Wednesday: 10:00-4:00
Thursday: 12:00-6:00
Friday: 10:00-4:00
Saturday: 10:00-4:00
Sunday: 1:00-4:00