Snap4CT Summer Nutrition Program (PLEASE DON'T DELETE)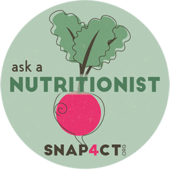 Join UConn Husky Programs Community Education Specialists Catalina Quesada and Karen O'Hare-Charles for a six-week program designed to set you on the path to good nutrition!  Sessions will run once per week for six weeks during July and August, and will include both hands-on cooking sessions as well as discussions about nutrition.  Parents and their children who are at least 10 years old are encouraged to join.
Registration is required, and participants will be expected to attend all six sessions. Sessions will be scheduled based on participants' availability.  To register, please use the form below or call (860) 447-1411 ext 5.