Teen Programs

*Lavender Library Book Club: April 6 at 4PM*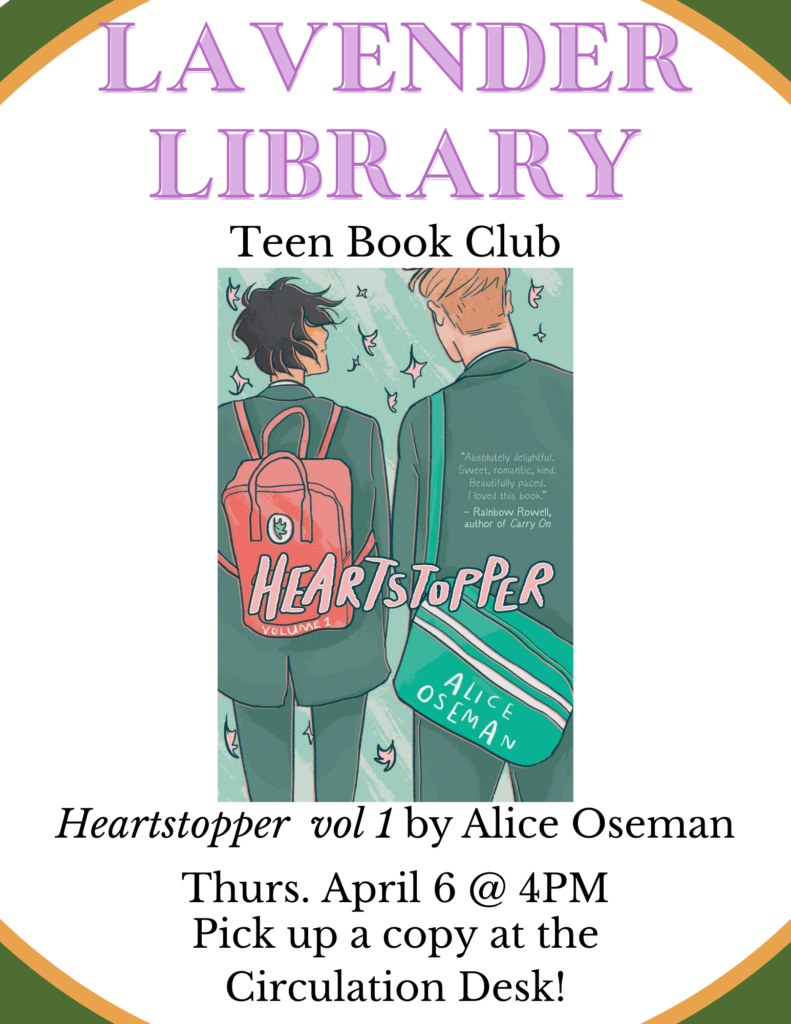 Join us for our teen book club as Title IX's Abby Rice leads a discussion of Heartstopper vol. 1, the hit graphic novel of the trials and tribulations of teenage romance. Copies are available to borrow at the PLNL Circulation Desk or to purchase at the Title IX Bookstore!
Special this Month
*EVERY Tuesday at 4PM:  Game On! -Every Tuesday we'll have a selection of games, ranging from board/card games to video games on our projector system!
Some board games we have include:
Uno, Connect 4, Betrayal at the House on the Hill, Evolution, Munchkin
Video games include: Super Smash Bros Ultimate, Mario Kart, and Switch Sports!
*EVERY Wednesday at 4PM:  Dungeons and Dragons for Teens -We'll be playing D&D games geared for teens every Wednesday starting in July! Don't worry if you're new, we can help you make characters, roll your stats, and even provide dice!
*Fridays March 3, 17 & 31 at 3PM:  Friday Afternoon Magic -Jump into the world's biggest trading card game, Magic the Gathering, with other teens! Learn the game, build a deck that you can keep, and practice and play with others!
*Thursday April 5 at 4PM:  Teen Egg Drop Challenge -Engineer the best way to keep an egg safe from a 2-story drop using limited materials!
*Tuesday April 11 at 12PM:  Teen Magic the Gathering Tournament -Teen MtG players are invited to take part in a free casual tournament at Prowess Gaming in the Crystal Mall!  Teens will play in pods of four, with prizing based on number of participants. Beginners and experienced players are welcome.
*Thursday April 13 at 6PM:  Cosplay Photography for Teens – Come learn the basics about cosplay photography and what goes into a photoshoot from both a photographer's lens and as a cosplayer. Hosted by Sunstiitch, a nonbinary cosplayer and photographer.
*Friday April 14 at 3PM:  Buildwave for Teens – Buildwave is a creative building program that feels like a video game! Students participating in the workshop will create with over a dozen different building materials, including Lego®, PlusPlus®, and custom-made Buildwave materials.
*Wednesday April 19 at 4PM:  Bad Art Night -Do you have a talent for art? Leave it at home! Hang out in the Teen Activity Room and make the most horrendous, ugly, and middling art piece you can think of!
*Monday April 24 at 4PM:  Snap Circuits with SPARK Makerspace – Join us in the Teen Activity Room as SPARK Makerspace leads a class on Snap Circuits, with a focus on electrical systems!
*Wednesday April 26 at 3PM:  Birds of Prey – Join us as Horizon Wings Wildlife Rehabilitation Center talks about Birds of Prey for Teens! Come learn about the birds in their care, taking care of wildlife, and even meet a few of the birds!
*Thursday April 27 at 4PM:  Teen Cooking Class -Looking to learn how to cook? Join us in the Teen Activity Room as we host a weekly guided cooking program to teach teens the basics of cooking!
*Friday April 28 at 3PM:  Teen Slime Night -Get messy in the Teen Activity Room and make your own slime to take with you home!
April's Take and Make:
*Teen STEAM Take and Make April 1 – 15:  Origami Firefly – Pick up in the Teen Reading Area.  Utilize copper tape to make a circuit and light up your own origami bug!
*Teen STEAM Take and Make April 16 – 30:  Electromagnetic Spinner – Pick up in the Teen Reading Area. Make a spinning paperweight powered by electricity and magnets!
Have ideas for an activity or event?  Email us or come in and let us know!
Or, want to stay up to date with everything happening at the library?  Sign up here!