Teen Programs

*Lavender Library Book Club: January 5 at 4PM*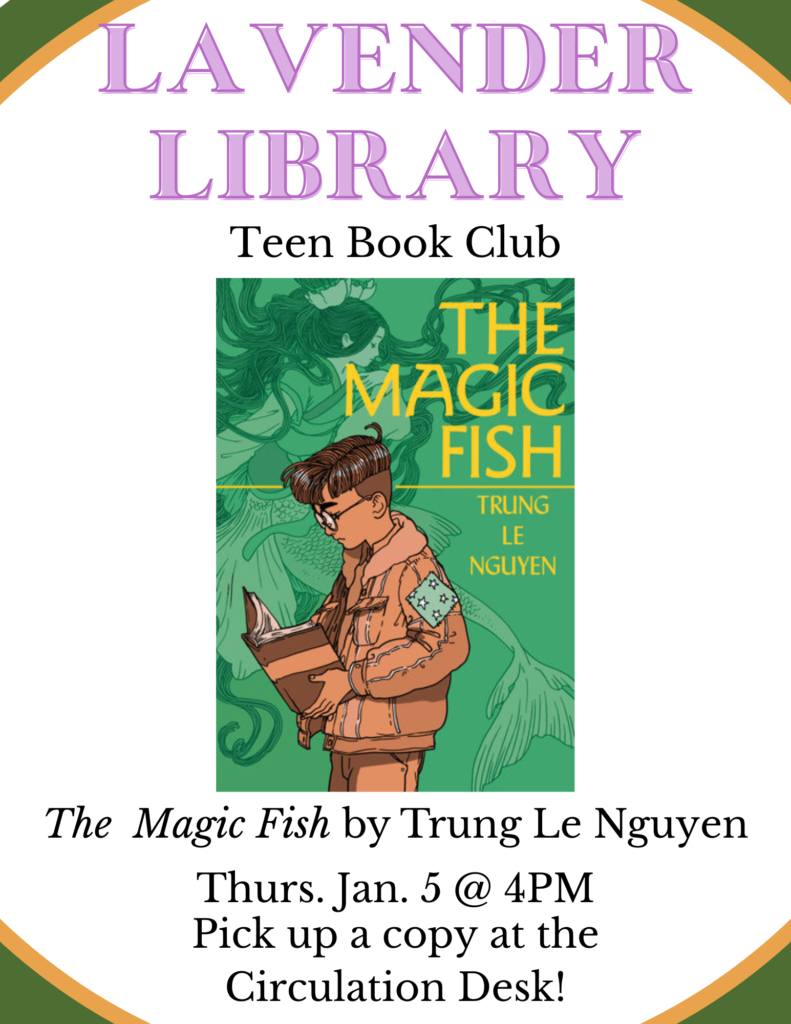 Join us for our LGBTQ+ literature book club as Title IX's Abby Rice leads a discussion of The Magic Fish, a graphic novel that follows a young boy as he tries to navigate life through fairy tales. Copies are available to borrow at the PLNL Circulation Desk or to purchase at the Title IX Bookstore.
Special this Month
*EVERY Tuesday at 4PM:  Dungeons and Dragons for Teens -We'll be playing D&D games geared for teens every Tuesday starting in July! Don't worry if you're new, we can help you make characters, roll your stats, and even provide dice!
*EVERY Wednesday at 4PM:  Teen Wednesday:  Game On! -Every Wednesday we'll have a selection of games, ranging from board/card games to video games on our projector system!
Some board games we have include:
Uno, Connect 4, Betrayal at the House on the Hill, Evolution, Munchkin
Video games include: Super Smash Bros Ultimate, Mario Kart, and Switch Sports!
*Thursdays January 26, February 9 & 23 at 4PM: Teen Cooking Club – Join us in the Teen Activity Room and learn to cook! Every meeting we'll be making something different, so come with an appetite!
*Thursday February 16 at 4PM:  Teen Anime Club -Join us to watch some Anime and talk about your favorites! We'll explore some options on Crunchyroll, both dubbed and subbed, all are welcome!
*Fridays February 3 & 17 at 3PM:  Friday Afternoon Magic -Jump into the world's biggest trading card game, Magic the Gathering, with other teens! Learn the game, build a deck that you can keep, and practice and play with others!
January's Take and Make:
*Teen Take and Make:  DIY Stress Ball – Pick up in the Teen Reading Area. Still stressing about the holidays? Make your own stress ball using our own DIY kit and work out those stressors!
Have ideas for an activity or event?  Email us or come in and let us know!
Or, want to stay up to date with everything happening at the library?  Sign up here!