Teen Programs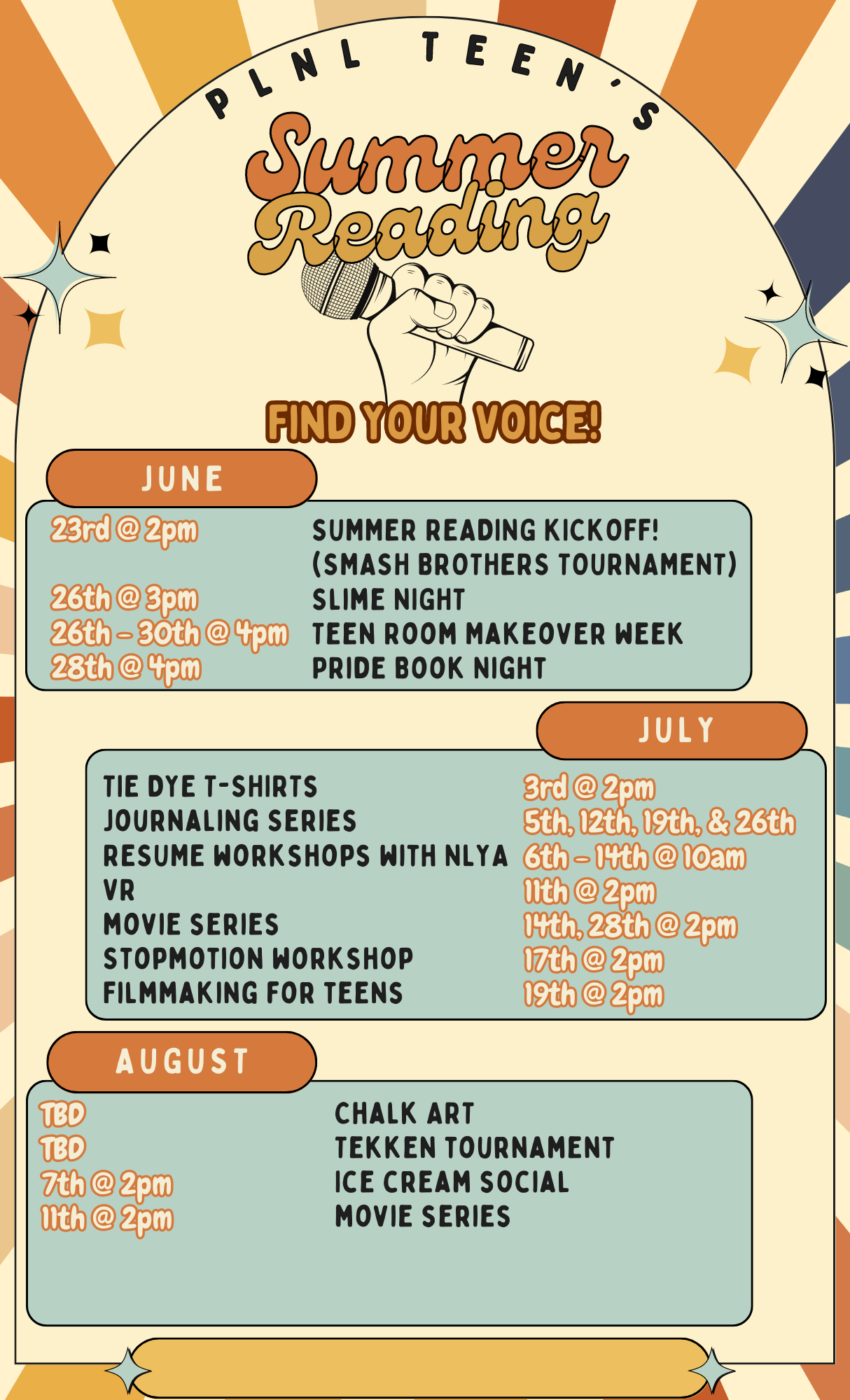 Summer Reading is Starting!
Summer Reading begins this month! Sign up at plnl.readsquared.com and log your books! We'll be giving away a prize every week for those that log at least one book read!
*Friday June 23 at 2PM:  Teen Summer Reading Kickoff Super Smash Bros. Tournament -Join us for a fun, casual Super Smash Bros. tournament in the Teen Activity Room! We'll have free pizza and extra controllers to borrow at the event!
*June 26 – 30 at 4PM:  Teen Room Makeover Week -Stop by every day the week of June 26 to decorate the Teen Activity Room with a new craft each day!
*Monday, June 26 at 4PM:  Slime Night -Get messy making slime in the Teen Activity Room and make your own slime to bring home!
*Wednesday, June 28 at 4PM:

Teen Pride Book Night –
Talk about your favorite LGBTQ+ books, get recommendations from others, and have some free snacks! This event will be held in collaboration with Title IX: A Bookstore.
Special this Month
*EVERY Tuesday at 4PM:  Game On! -Every Tuesday we'll have a selection of games, ranging from board/card games to video games on our projector system!
Some board games we have include:
Uno, Connect 4, Betrayal at the House on the Hill, Evolution, Munchkin
Video games include: Super Smash Bros Ultimate, Mario Kart, and Switch Sports!
*Wednesdays June 14 & 28 at 4PM:  Dungeons and Dragons for Teens -We'll be playing D&D games geared for teens every Wednesday starting in July! Don't worry if you're new, we can help you make characters, roll your stats, and even provide dice!
Have ideas for an activity or event?  Email us or come in and let us know!
Or, want to stay up to date with everything happening at the library?  Sign up here!