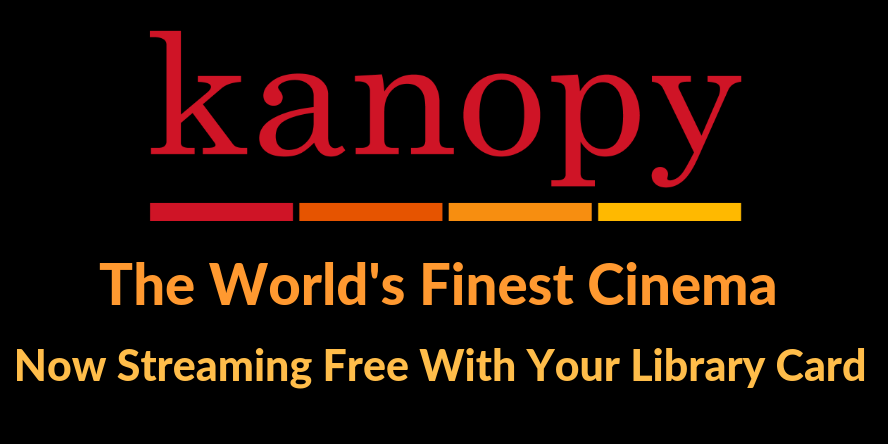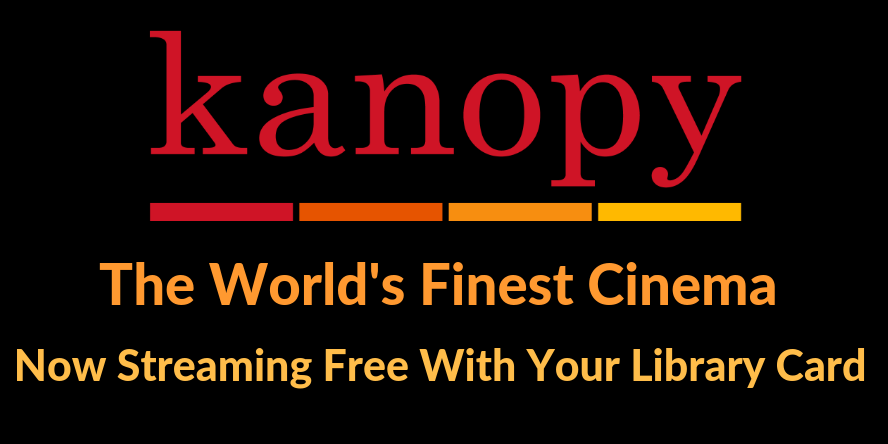 You can now stream thousands of movies, including classic cinema, indie films, and top documentaries, for free! All  you need is your Public Library of New London card.
Introducing the streaming platform Kanopy, which brings 30,000 movies to library cardholders, free of charge. Kanopy can be streamed on your iOS, Android, AppleTV, Roku, and Chromecast devices, or on a computer.
Once you've registered your library account with Kanopy, viewers can keep track of how many movies you have left in the upper right-hand corner of the onscreen interface. Patrons of the Public Library of New London can stream up to 10 free movies a month.
Getting Started With Kanopy
Download the Kanopy app from the Apple App Store or Google Play store, or visit https://plnl.kanopy.com/.
To play a title, log in with your Kanopy account and have an active membership with with the library.
The account set-up is a 3-step process:
1) Create a Kanopy account
Swipe twice to the sign up screen, then click on the Sign Up button.
Join with Email — Create an account with email — Enter your First Name, Last Name, Email address, and Password of your choice, and tap the Sign Up button. An email will be sent to the email address you entered; click on the emailed link to validate your email address.
Or, create an account with Facebook or Google. Tap either the Facebook or Google button and follow the prompts on screen.
2) Add your library
Tap the link to Find Your Library. In the search box of the page that opens, enter Fairfield Public Library and tap on its name in the list that appears.
3) Connect your account with your library membership.
Enter your library card number and PIN. Your PIN is "PATRON" unless you have changed it.
The Kanopy Video Player
Once you have created your account, you will be able to view 7 free films (loan period is 3 days) each month. When you first open the Kanopy app, you will see the home screen, where you can browse the content on the Kanopy platform.
Tapping a thumbnail will take you to the "About the Movie" page where you can see duration, cast, synopsis, and other details.
In the player, tap the screen to bring up the player's user interface. At the bottom of the screen you will see the Play/Pause button, the Quick Rewind button, the Progress Bar and the Remaining Play Time Clock. To fast forward, please tap and drag the Progress Indicator on the progress bar.
Kanopy can also be streamed on your IOS, Android, Apple TV, Roku, and Chromecast devices, or on a computer.