Roku Streaming Stick
The Roku Streaming Stick allows you to stream movies and shows from many different streaming services, some of them which are free.
Do I need internet access to use the device?
Yes.  You must have internet access to connect to the device in order to stream.
If you do not have internet access the library also lends Wi-Fi Hotspots that you can borrow with your library.
Do I need to have a subscription to a streaming service to use the device?
No.  You can access Kanopy, the library's streaming service, with your valid library card.  You can also stream movies through Roku Tv.  However, you must have your own personal streaming service to connect to services like Netflix or Hulu.
How long does the device circulate for?
The Roku Streaming Stick circulates for 7 days.  It cannot be renewed and you must wait 48 hours before borrowing it again.
Where do I pick up the device?
It must be picked up at the Circulation Desk.
Can the device be placed in the book drop?
No.  The device must be returned to the Circulation Desk at least one hour before we closed and hand it to a member of staff.  If the device is returned to the book drop and it is damaged you will be charged the full replacement cost of $50.
What's included in the Roku box?
This box includes:
1 Roku Streaming Stick

1 remote control 

2 AAA batteries

1 AC power adaptor (with USB input)

1 USB power cable (with long-range wireless receiver)

1 user's guide 

1 black carrying case
How to set up your Roku Streaming Stick:
Use the diagrams below as a guide to help connect your Roku Streaming Stick+.
Make sure all connections are secure and firmly attached.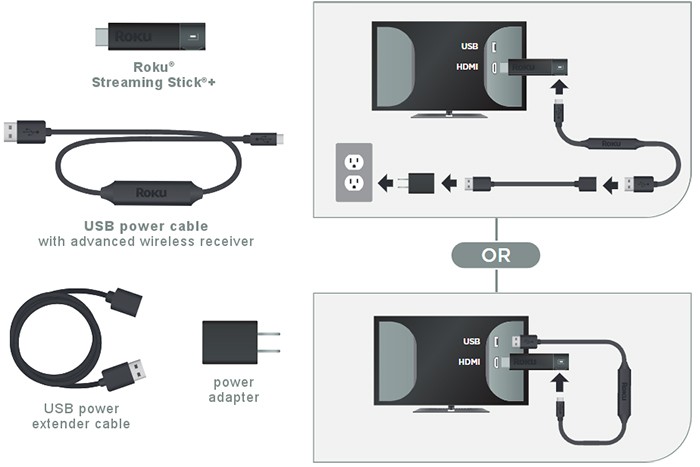 POLICY
 The Public Library of New London lends Roku Streaming Stick to Library Card holders in good standing, ages 18 and above.  Roku checkout is limited to one per household for a period of one week, and it cannot be renewed or reserved.  Rokus are available at the Circulation Desk on a first-come, first-served basis from the time of opening until 1 hour before the library closes.  The library reserves the right to refuse service to patrons who abuse equipment or who are repeatedly late in returning materials.  The library is not responsible for any liability, damages, or expense resulting from use or misuse of the device, connection of the device to other electronic devices, or data loss resulting from use of device.
Agreement
I understand I must present my library card and government-issued photo identification to the Circulation Desk. Once a Roku is checked out to me, it becomes my responsibility. Any changes in condition or content while in my care will be my responsibility. I am responsible for damage, loss, or theft, and should have a basic working knowledge of the device on checkout. If any technical problems are encountered, I should call the library or ask a staff member.
I understand devices must be returned to a member of the library staff at the Circulation Desk at least one (1) hour before the library closes, and should never be returned in the book drop or to another library. I understand that if I return a device to the book drop and it is damaged I will be charged the replacement cost of the damaged item(s)] If the Roku is found to have sustained damage while in your care, a full replacement cost of $50 will be assessed. A returned Roku must remain available in the library for 48 hours before I or someone in my household may check it out again. 
I understand and I agree that an overdue charge of $10 per day up to the full replacement cost of $50 will be charged for a Roku that is not returned. I further understand and agree that I am responsible for the full replacement cost if the device or any parts are lost, stolen, damaged, or otherwise not returned. If I fail to pay the replacement cost for a lost device, my borrowing privileges will be canceled. Three (3) late returns for any device checkout will result in being permanently banned from borrowing all devices.
I understand that I must have a Wi-Fi connection to use the Roku Streaming Stick.
The library provides me with a streaming service through Kanopy and Roku Free channels. To access streaming services such as Netflix I understand that I will need to log in with my personal streaming service account.
I understand that I will not be able to download any other channels other than those available. I can suggest those channels to the library staff for addition at a later time.