Study Hall of Justice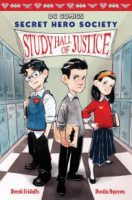 Young Bruce Wayne is the new kid at Ducard Academy, a prep school for gifted middle school students. Bruce finds out pretty quickly that he doesn't fit in: the faculty seems to not just encourage villainous behavior from its students, but reward it. He makes friends with two other outsiders, farm boy Clark Kent and the regal Diana Prince. The three band together to form a detective squad to find out why all of these extraordinary kids have been brought together at Ducard Academy, and to see just what the faculty is plotting.
If you love DC comics and mysteries, this charming graphic novel combines them both into a wonderfully illustrated read. Recommended by Michele.