The Woman in Cabin 10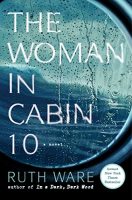 Lo Blacklock, a travel magazine journalist, has just been given the assignment of a lifetime: a week on a luxury cruise with only a handful of cabins. At first, Lo's stay is nothing but pleasant; however,  as the week wears on, Lo witnesses what she can only describe as a nightmare: a woman being thrown overboard. The problem? All passengers remain accounted for, and the ship sails on.
A fast-paced, psychological mystery, that is a pretty quick read with good plot twists. Recommended by Linda.