English Conversation Group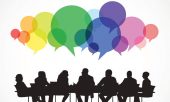 Wednesday, January 10 5:30pm-6:30pm  Come along to make new friends and improve your English.
Friendly and informal English conversation groups meet at the library. The library offers 3 sessions a month.
Thursday, Jan 4 at 11:30 AM
Wednesday, Jan 10 at 5:30 PM
Monday, Jan 22 at 4:00 PM
Free. Registration is not required.